Player Bounty
Charging Dock

Ready When You Are
It always seems to happen at the worst time, doesn't it?
You left your headset on the couch overnight and finally return to play VR... only to find 10% battery remaining.
But no longer! We've created a home for your beloved headset.
The Player Bounty Charging Dock is automatic, magnetic and designed specifically for the Oculus Quest 2.
It's the only thing you need for a seamless and uninterrupted VR experience.
Strap in, fully charged. 
No cables. No waiting. No limits.
With the Player Bounty Charging Dock, your virtual reality is ready when you are.
Features
Up until now, when you forgot about charging, your play session was over before it even started.
Now, you can forget about charging, in the best possible way.
Feature-rich and user friendly, the Player Bounty Charging Dock makes living all your many lives that much easier.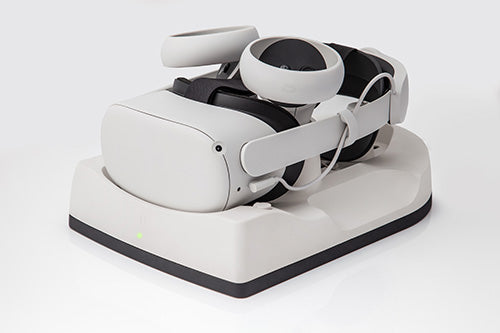 Perfect Fit
Works with all original Oculus Quest 2 headstrap options.
Works with FrankenQuest mod and other third-party headstraps.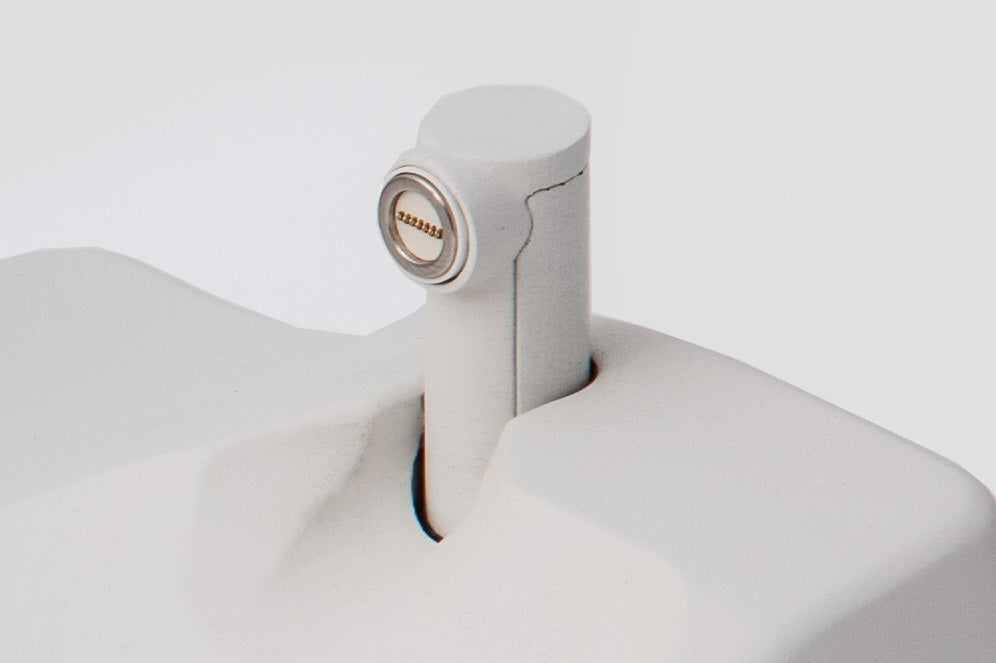 Adjustable
Keep the front periscope in the up position to charge your headset.

Push down to charge the Elite Strap With Battery.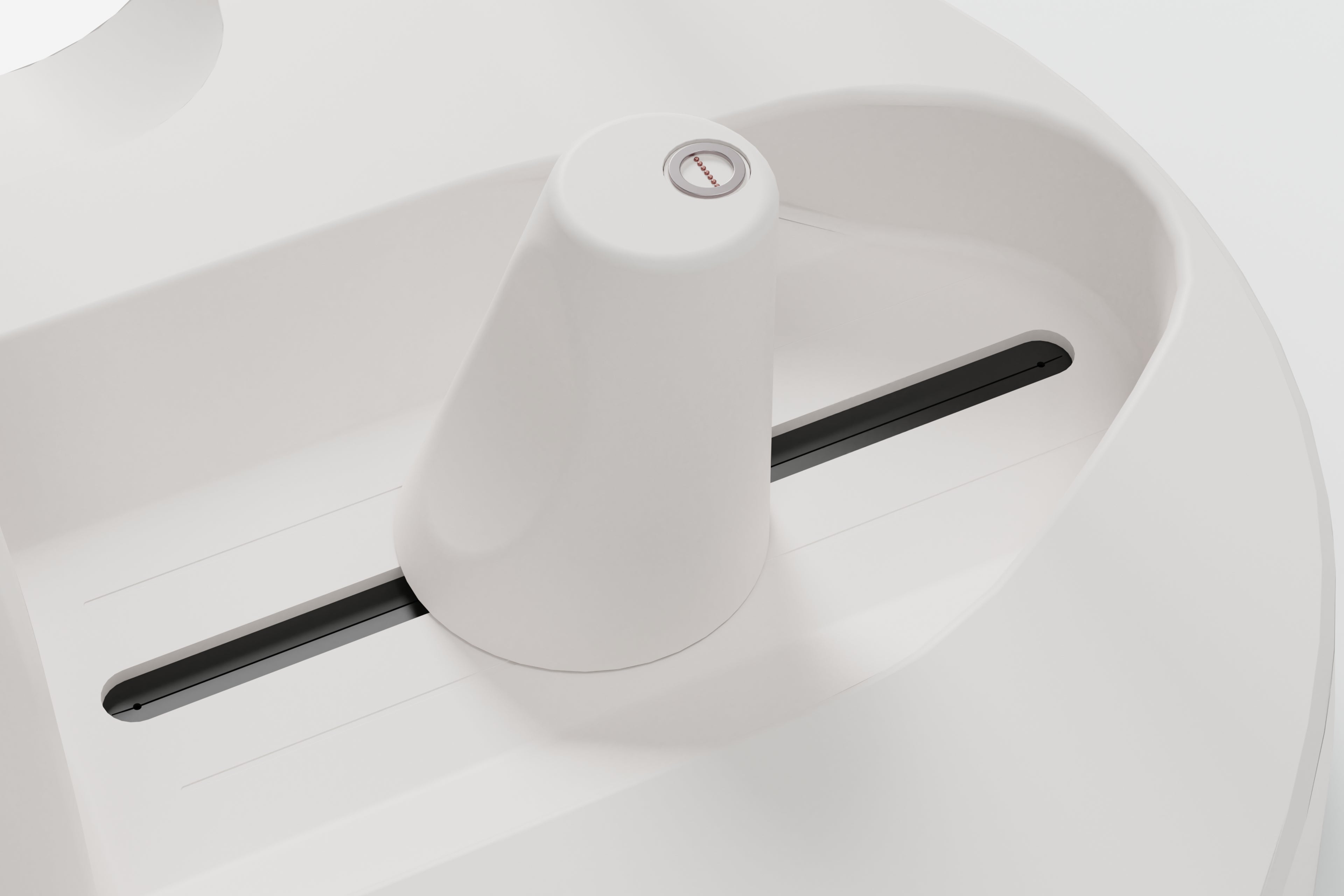 For the Elite
Charge the Elite Strap With Battery via the rear charging tower.

Simply slide across to suit any head size.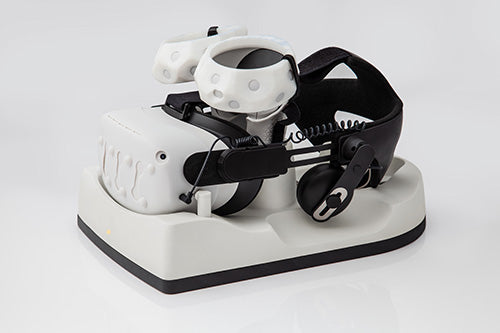 Accessories Welcome
Clearance provided for:
Headstraps
Headphones
Knuckle grips
Protective headset covers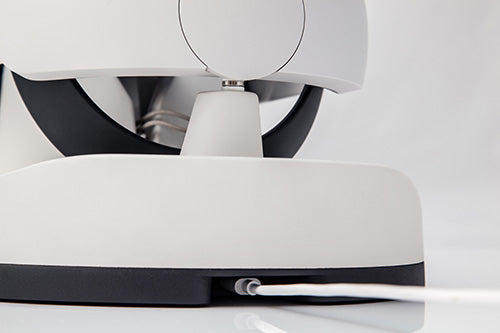 Well Guarded
Built-in surge protection.
Protects your Quest 2 USB-C port from long-term wear and tear.
Product Specifications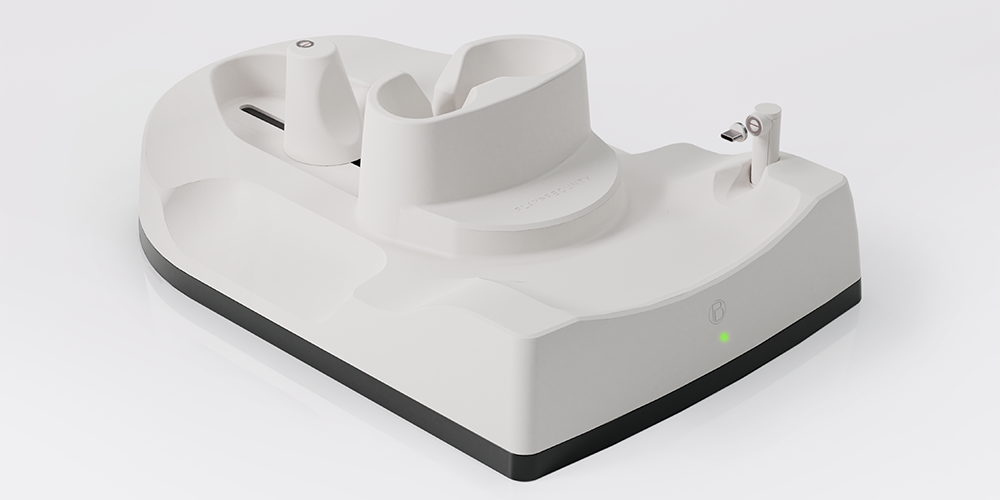 Width: 9 in / 23 cm
Length: 13.7 in / 35 cm
Height: 4 in / 10 cm
Height (with controllers):
7 in / 18 cm
Weight: 4.4 lb / 2kg
Color: White with black base

Price: $48.99
The Only One Of Its Kind
There is truly nothing like the Player Bounty Charging Dock in the VR world. The reason: because we made it after closely listening to VR gamers, adventure seekers, escape artists and bounty hunters... or in other words, you!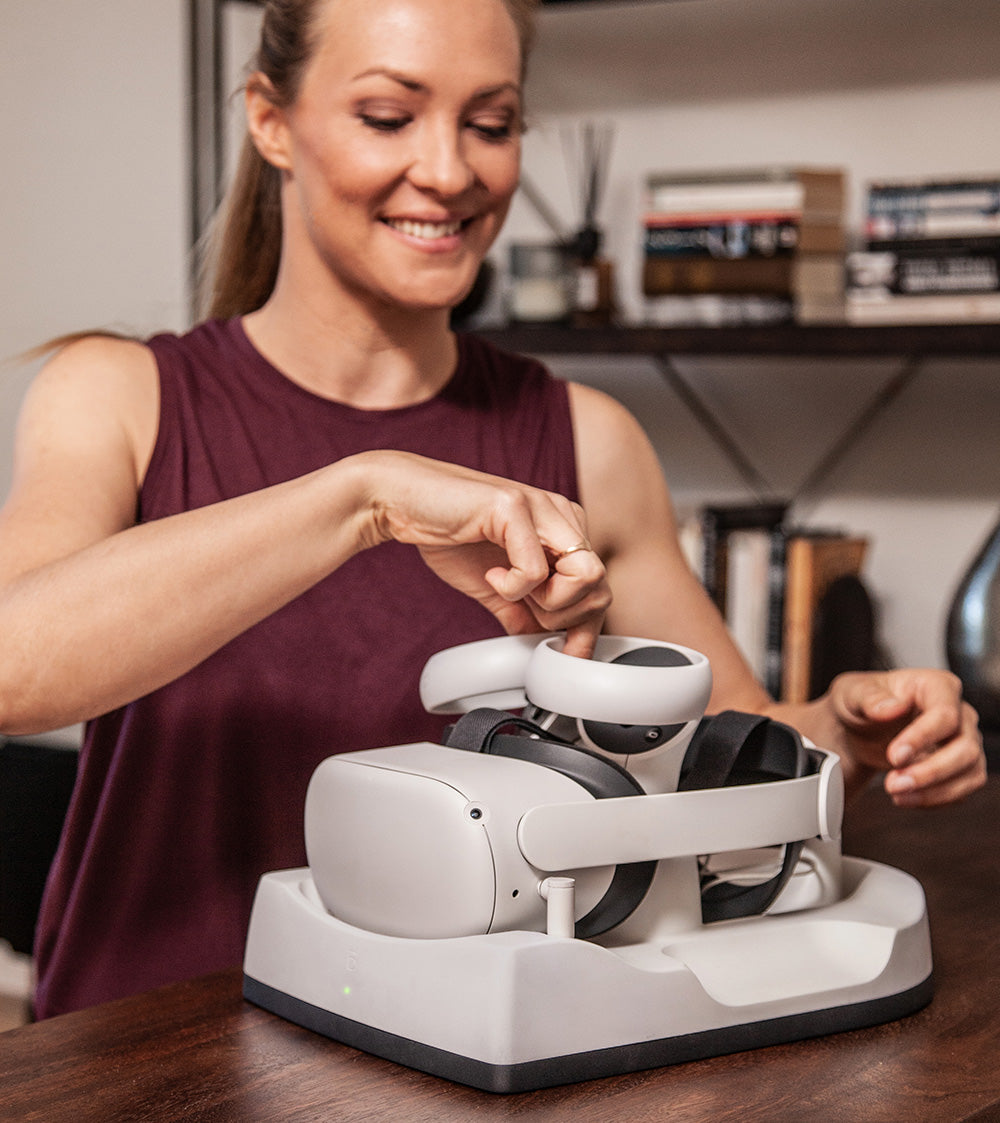 Player Bounty Charging Dock
Alternative
Above and Beyond
Charges the optional 'Elite Strap With Battery'.
Does not have that capability.
Knuckle Down
Extra clearance so knuckle grips remain on controllers when in position.
No extra space: requires removal of knuckle grips every time.
Right Size
Space-saving design with controllers placed inside headset.
Elongated shape with controllers on either side of headset.
Aesthetic Detail
Accurately color matched to the Oculus Quest 2.
Mismatched shade of white.
Ask Yourself
Do you want the most innovative home for your Oculus Quest 2?
Do you want to finally be able to say that you have taken the last step on your journey towards the perfect virtual reality set-up?
Take it from us, gamer-to-gamer, the Player Bounty Charging Dock is the gift that keeps on giving.
Finally, a way to display your Oculus Quest 2 with pride.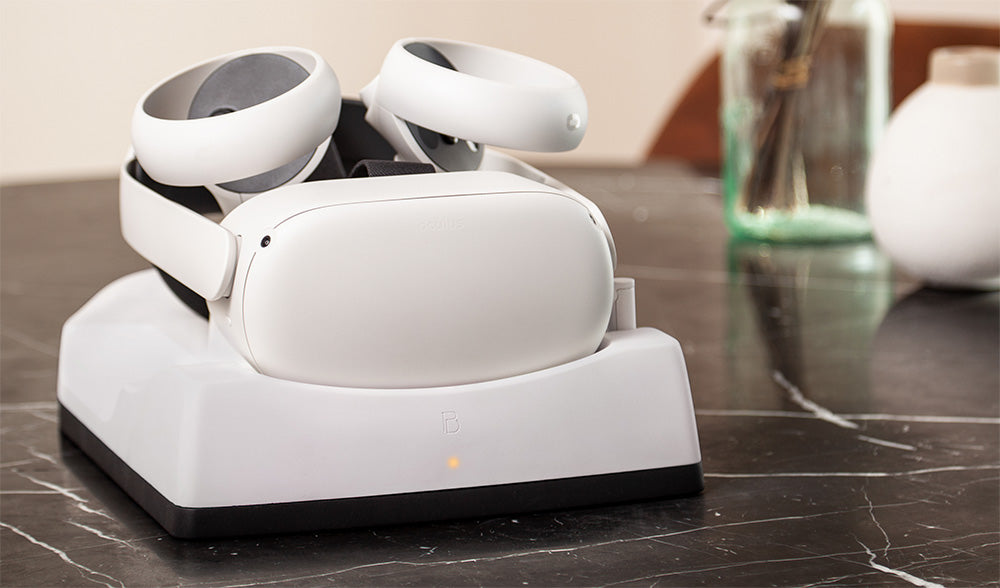 For Design
The days of struggling with wires and tangles are over. The Player Bounty Charging Dock elevates the design and overall look of any VR station, becoming the minimalist, sleek centrepiece that looks great on display.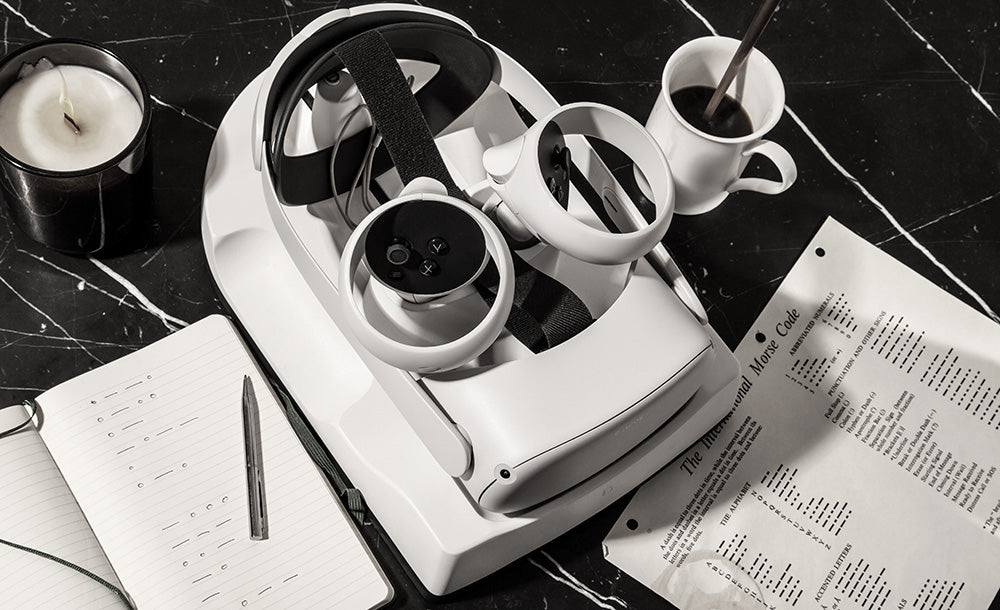 For Convenience
All you have to do is put your Oculus Quest 2 down. That's it. Automatic and magnetized, the Player Bounty Charging Dock literally picks up what you put down, charging your headset instantly. No need to plug anything in.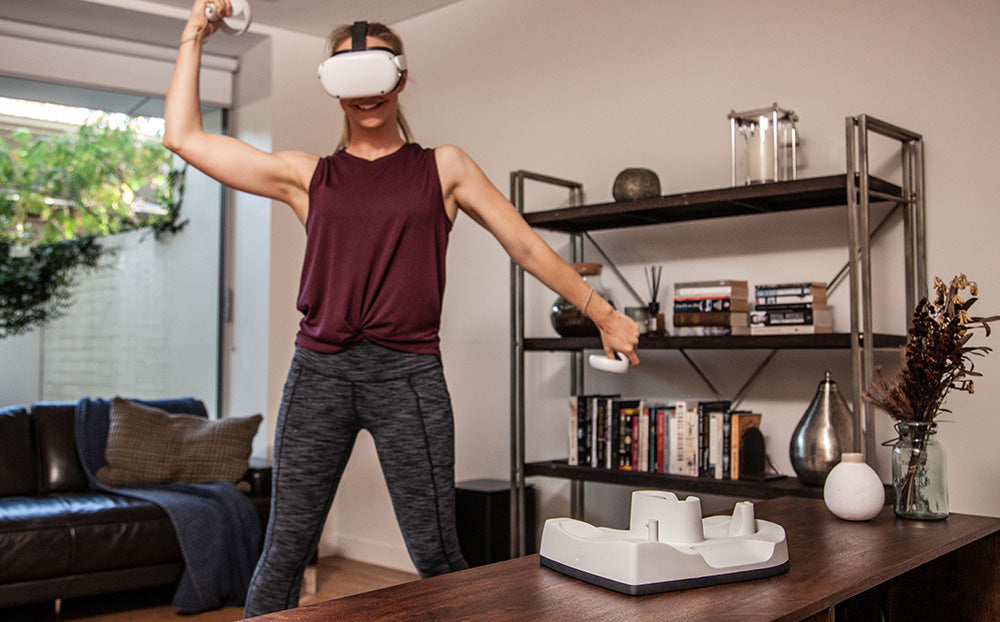 For Yourself
We want to make your transition between this reality and the virtual one as seamless as possible. Go further than before, to increased immersion and total freedom. We have created for you the final missing piece to complete your VR experience.